John L. Baltzegar, (my great great grand father), was born in Orangeburg County, South Carolina between 1820 and 1825. At the outbreak of war in 1861 he was between 36 to 41 years old, no longer considered a young man in those days. He was married to the former Martha Dempsey and they had seven (7) children in their household, the youngest of which was only two years old. My great grand father, his son Leon was only seven years old at the time. John and Martha supported their family as independent farmers. Although his mother, Catherine Smoak Baltzegar had three slaves, (an elderly couple and a young boy), John and Martha were not slaveholders and worked their land alone. [1]

In compliance with the Confederate Conscription Act of April 1863, John L. Baltzegar, after completing his spring planting, traveled from Orangeburg County to Charleston to enlist in the regiment of his younger brother Uriah H. Baltzegar. Uriah and possibly another brother Josiah and some cousins had answered the call in Orangeburg and were enlisted by Capt. E. J. Fredrick on March 19, 1862.


They were all members of Lamar's Battery, Company "C", 2nd South Carolina Artillery, C.S.A. John L. was enlisted by a Lt. T. C. Andrews on the 24th of April 1863, for the duration of the war, at the receiving station at Battery Means, across the Wapoo river on James Island. [2]

Apparently the 2nd S.C. Artillery had a good number in their command from the Orangeburg area. There were five Baltzegar's listed on the roster for Co. "C", all save John L., are shown on their muster sheets as being detailed as "regimental teamsters". [2]
Artillery teamsters or wagoneers, usually privates, were under the direction of the quarter master sergeant and assigned to drive and care for the baggage wagons, (normally two), and sometimes an ambulance. They were probably paid an extra rate equal to that of a corporal's pay. Teamsters were considered important men, not just because they looked after the baggage, but because they guarded it with zeal from other troops and commands.

The 2nd S.C. Artillery Regiment spent the majority of the war in and around Charleston, in the defense of James Island manning batteries Mean, Haig, Palmer and Godfrey. [2]

John L. Baltzegar was probably unlettered. To date no correspondence or letters have been discovered to shed light on his service to the Confederacy. The following account is based on Confederate records and the activities of his Company and the hostilities that took place in their area. His May – June '63 muster roll shows him sick in camp which would have been at either Battery's Haig or Palmer. [2]

A fleet of the Union's newest ironclad monitors and the USS New Ironsides, (possibly, at that time, the world's most formidable warship), blockaded Charleston's harbor. Union land and sea forces were commencing a major effort to enter Charleston's heavily defended harbor and capture what they referred to as "The Hellhole of Secession".

The Battle of Charleston Harbor, (August - September 1863), was a long artillery duel pitting the Federal artillery on Morris Island and Federal gun boats and ironclades in the rivers and off the coast against most of the Confederacy's heavy coastal batteries on James Islands. During this period Company "C" 2nd S.C. Artillery was stationed at Battery's Haig and Palmer. [3]

Private John L. Baltzegar's military records for September – October '63 show him absent on detached service. [2]

His muster roll for May – June '64 report that while stationed at Battery Godfrey Private John L. Baltzegar was "sent to hospital" due to illness. [2]

After the capture of Fort Fisher at Wilmington, N.C. and the crossing of Sherman's Army into South Carolina, both of which occurred in January of 1865, the 2nd S.C. Artillery was ordered to evacuate the Charleston area and it was placed, as infantry, under the command of Brig. Gen. Stephen Elliot, Jr., (the defender of Fort Sumter), who's brigade was a part of Taliaferro's division, Hardee's corps.

In February 1865, the 2nd S.C. Artillery along with the majority of Confederate forces from Charleston began their march north in an attempt to link up with General Joseph E. Johnston's Army of Tennessee and General Robert E. Lee's Army of Northern Virginia. What followed is known as the Carolinas Campaign, (February - April 1865)

The Battle of Averasboro, Smithville or Smiths Ferry, (March 15, 1865), was a desperate struggle against over whelming odds. At the end of this battle a final Union attack was repulsed by a stubborn Confederate stand by Taliaferro's division on the right flank. The 2nd S.C. Heavy Artillery being with Taliaferro, now serving as infantry, Private John L. Baltzegar undoubtedly was part of this determined defense. [4]

The Battle of Bentonville, (March 19, 1865), was the last battle of the war in the east and it ended in a tactical draw. The bold actions of Hardee's Corp in their late afternoon counter attack and night assualt, assured Johnston the use of a bridge needed for an orderly withdrawal of his weary troops during the night. As a member of Hardee's corps, the 2nd S.C. Artillery's last action was both successful and logistically crucial. [5]

The Army of Northern Virginia withdrew from Petersburg the first of April 1865 to better secure their supplies and in an effort to link up with Johnston's army in North Carolina. Thus began General Lee's steady retreat that ended on April 9th at Appomattox Court House with the surrender of the forces under his command to General Grant.

On April 26, 1865, General Johnston, (After meeting with President Jefferson Davis, then in flight from Richmond with the government), decided to accept Sherman's terms and laid down Confederate arms at the "Bennett House" near Durham Station, Orange County, N.C., in the largest troop surrender of the American Civil War.

Company "C" 2nd S.C. Artillery surrendered at Greensboro, Guliford County, N.C. the same day, seventeen days after General Lee surrendered.

Private John L. Baltzegar was paroled two days later at Greensboro on 28 April 1865. [2]

Many of the members of the 2nd S.C. Artillery are buried around the Orangeburg area, but not Private John L. Baltzegar. After his parole he is lost to history, for he never returned to his home. Family records are sketchy but it is believed he died in camp shortly after his parole. From his military records we know he had been in bad health. Given his age, health and the harsh conditions of the past three months, (forced marches in cold wet weather, poorly provisioned and facing continuing skirmishes not to mention two pitched battles.), John L. may have just failed to survive. He may even have been wounded. Record keeping of such matters was nonexistent at this late stage of the war.

Whatever John L. Baltzegar's end, he was surely a casualty of the war and his life was sacrificed in defense of his home and country. The great sorrow of his family and hundreds of other families like them is that we do not know where he lies in his finial rest.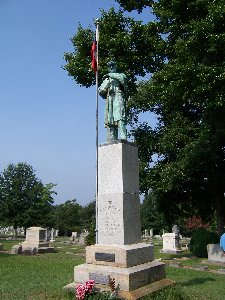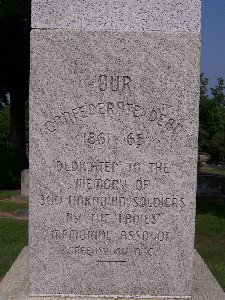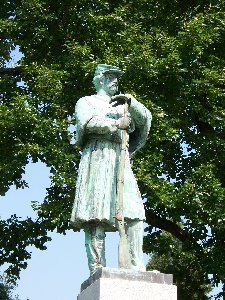 ~ Possible location of John L. Baltzegar's grave in Green Hill Cemetery, Greensboro, N. C. ~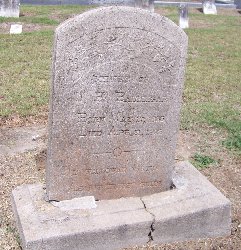 IN
MEMORY OF
U. H. BALTZEGAR
BORN MAY 17, 1835
DIED APR. 21, 1893
------- O -------
HE FOLLOWED VIRTUE
AS HIS TRUEST GUIDE
?…………… CHRISTIAN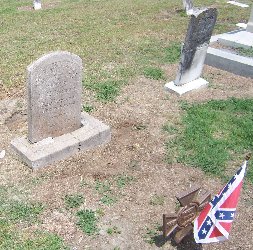 .....
BALTZEGAR
FAMILY
PLOT
.....


~ Ckick for larger Image ~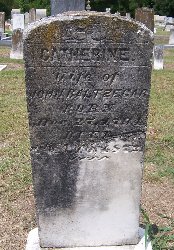 ------------------
CATHERINE
------------------
Wife of
JOHN BALTZEGAR
BORN
Dec. 27, 1794
DIED
Feb. 10, 1872


Ebenezer Baptist Church Cemetery, Cordova, Orangeburg County, South Carolina




FOOT NOTES:
[1] U.S. Census 1840 - 1850 - 1860 and other family data.

[2] State Archives .. There are Muster Rolls for:
John L. Baltzegar, Uriah H. Baltzegar, J. C. Baltzegar , J. S. Baltzegar and J. Baltzegar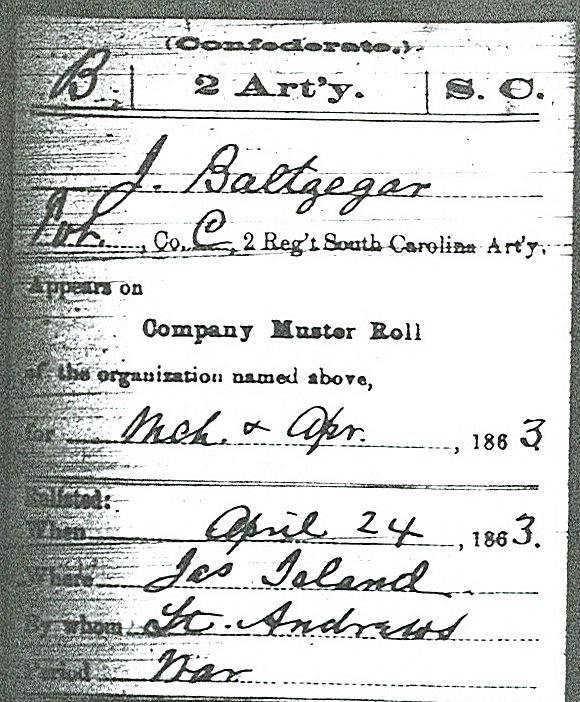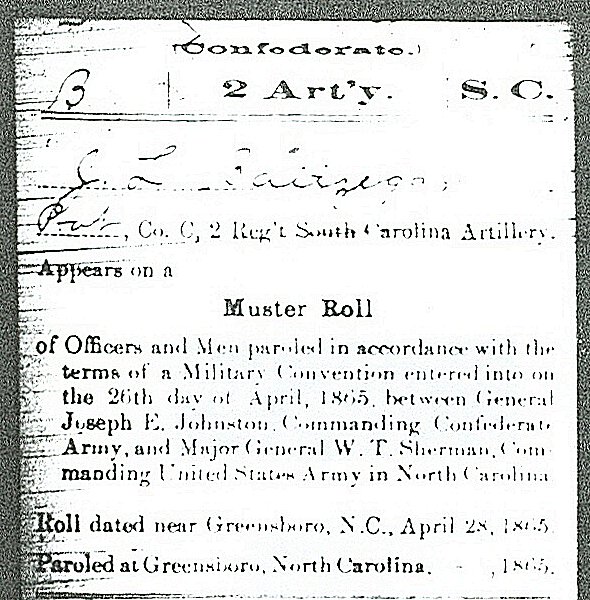 Company "C" 2nd SC Heavy Artillery: Location Reports
Jul. - Aug. 1862 .. Camp Beauregaurd
Sep. - Oct. 1862 .. East Lines & Entrenchments
Nov. - Dec. 1862 .. Fort Lamar
Jan. - Feb. 1863 .. East Lines & Entrenchments
Mar. Apr. 1863 .. Battery Means
May - Oct. 1863 .. Batteries Haig & Palmer
Nov. 63 - Apr. 64 .. Battery Palmer
May -Oct. 1864 .. Godfrey's Battery
Nov. - Dec. 1864 .. Battery Kickland
Jan. - Feb. 1865 .. Godfrey's Battery

[3] Charleston Harbor (August - September 1863) ..... Order of battle:
1st Regiment Artillery, Militia
2nd Artillery Regiment
15th (Lucas') Battalion, Heavy Artillery
18th Artillery Battalion
Capt. Gregg's Co. Artillery (McQueen Light Artillery)
Capt. Wagener's Co. Light Artillery (Co. A German Artillery)
Capt. Gilchrist's Co. Heavy Artillery (Gist Guard)
Capt. Parker's Co. Light Artillery (Marion Artillery)
Capt. Mathewes' Co. Heavy Artillery
Palmetto Light Artillery Battalion Company A (Furman Artillery)
Palmetto Light Artillery Battalion Company B
Palmetto Light Artillery Battalion Company C
Palmetto Light Artillery Battalion Company D
Palmetto Light Artillery Battalion Company E
Palmetto Light Artillery Battalion Company G
Palmetto Light Artillery Battalion Company H
Palmetto Light Artillery Battalion Company I
Palmetto Light Artillery Battalion Company K
Capt. Mayham Ward's Co. Artillery (Waccamaw Light Artillery)
1st Charleston Infantry Battalion (Gaillard's Battalion) (Infantry)
1st (Butler's) Infantry Regiment Regulars
7th Infantry Battalion (Nelson's Battalion) (Enfield Rifles)
11th Infantry Battalion (9th Volunteers)
17th Infantry Regiment
18th Infantry Regiment
20th Infantry Regiment
21st Infantry Regiment
22nd Infantry Regiment
23d Infantry Regiment (Hatch's Regiment, Coast Rangers)
25th Infantry Regiment (Eutaw Regiment)
26th Infantry Regiment
27th Infantry (Gaillard's Regiment)
State Cadets Battalion, Local Defense Troops Charleston
Holcombe Legion Infantry

[4] Battle of Averasboro, NC March 15, 1865 .......... Order of Battle:
TALIAFERRO'S DIVISION
Brig. Gen. William B. Taliaferro

Elliot's Brigade
Brig. Gen. Stephen Elliot, Jr.
22nd Georgia Battalion
28th (Bonaud's) Georgia Battalion
Hanleiter's Battalion
Manigault's Battalion
2nd South Carolina Heavy Artillery

Rhett's Brigade
Col. Alfred M. Rhett (captured March 15, 1865)
Col. William Butler
1st South Carolina Infantry (Regulars)
1st South Carolina Heavy Artillery
Lucas' South Carolina Battalion

Artillery Battalion
Maj. A. Burnet Rhett
Capt. Gustave LeGardeur's Battery (two guns)
Capt. Henry M. Stuart's Battery (one gun)

[5] Battle of Bentonville, NC March 19, 1865 ...... South Carolina order of battle:
Infantry: 1st, 1st Battalion Reserves, 2nd, 2nd Battalion Reserves, 3rd, 3rd Battalion,
6th Battalion Reserves, 7th, 7th Battalion, 7th Battalion Reserves, 8th, 10th, 11th, 15th, 16th, 19th, 20th, 21st, 24th, 25th, 27th, Kay's Co. Reserves (?)

Artillery: 1st Heavy, 2nd Heavy, Beaufort Light (Stuart's Battery), Earle's Battery, Hart's (Halsey's) Battery, Gist Guard Artillery, Lucas' Battalion

Cavalry: 4th, 5th, 6th