Trout Any of certain small, fresh-water fishes, highly esteemed by anglers for their gameness, their rich and finely flavored flesh, and their handsome (usually mottled or speckled) coloration.

(SS-202: dp. 1,475 (surf.), 2,370 (subm.); 1. 307'2"; b. 27'3"; dr. 13'3"; s. 20 k. (surf.), 8.75 k. (subm.); cpl. 59; a. 10 21" tt., 1 3", 2 50-cal. mg.; cl. Tambor)

USS Trout, a 1475-ton Tambor class submarine built by the Portsmouth Navy Yard, Kittery, Maine, was placed in commission in November 1940. The new submarine was sent to the Pacific in mid-1941, arriving at her new base, Pearl Harbor, Hawaii, early in August. When Japan's 7 December 1941 surprise attack on that facility began the Pacific War Trout was on patrol near Midway Island and witnessed a bombardment by two enemy destroyers. Too distant to interfere, she remained on station until later in the month.

Trout's second war patrol took her to the Philippines with a cargo of ammunition. At Corregidor in early February 1942 she took aboard twenty tons of gold and silver for transportation to Pearl Harbor. On her return trip, by way of the Formosa Strait and the Bonin Islands, she sank a Japanese freighter and a small patrol vessel.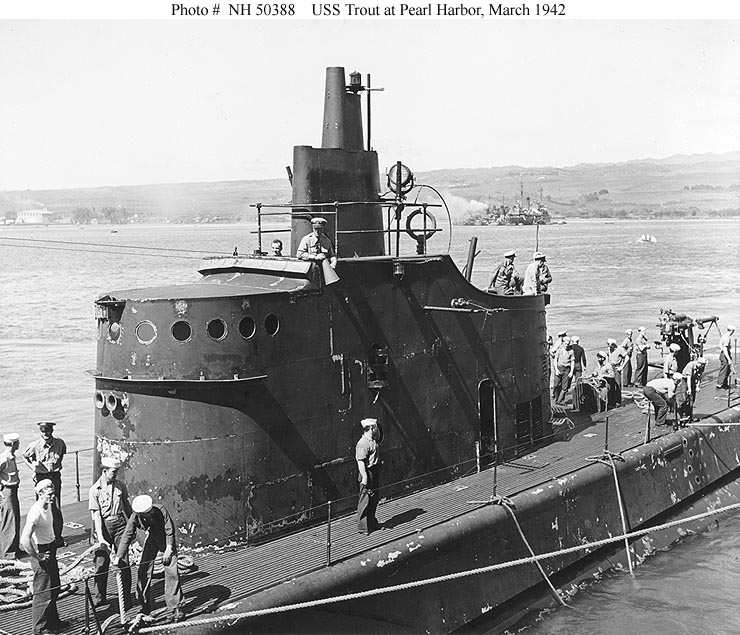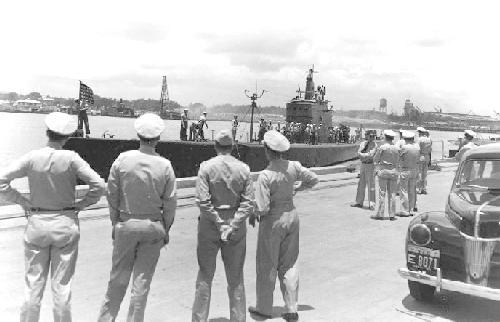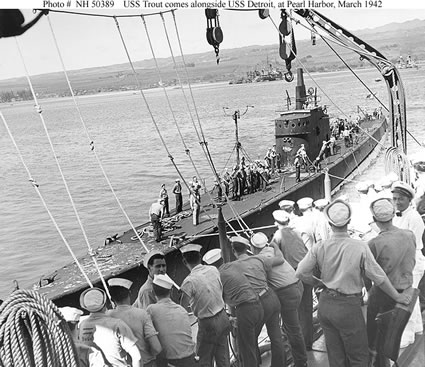 On her next combat cruise, off Japan, Trout made several attacks and was credited with five sinkings, but the still unrecognized unreliability of her torpedoes' magnetic exploders limited her actual score to just two. In June she was one of many submarines sent to take part in the Battle of Midway, but her contribution was limited to recovering a few Japanese survivors days after the action. Trout went to the waters off Truk for her fifth war patrol, in August-October 1942. During this she sank a small net tender, damaged the aircraft carrier Taiyo, and was herself damaged by aircraft bombs.

Operating from Australia during her sixth through tenth patrols, she made an unsuccessful attack on a battleship on 13 November 1942, sank seven ships during January-September 1943 (among them a submarine), laid mines, landed and recovered agents in the Philippines, captured a number of Japanese prisoners, and endured a series of problems with her torpedoes that undoubtedly saved several enemy vessels.

Trout was overhauled at the Mare Island Navy Yard before returning to Pearl Harbor in January 1944.

On February 8, 1944, Trout left Pearl Harbor for her 11th and final patrol. After refueling at Midway on the 16th, she headed for the East China Sea, and was never heard from again. Postwar Japanese records reveal that one of their convoys was attacked by a submarine on February 29, 1944 in the patrol area assigned to Trout. The submarine badly damaged one large passenger-cargo ship and sank the 7,126-ton transport Sakito Maru. It is possible that one of the convoy's escorts sank Trout. On April 17, 1944, Trout was declared presumed lost. Later information indicated she was lost on 29-Feb-1944 with the loss of 81 officers and men when she was sunk near 22-40N, 131-45 E, middle of Phillipines Basin. Trout received 11 battle stars for World War II service and the Presidential Unit Citation for her second, third, and fifth patrols. She is credited with sinking 37,144 tons in 12 enemy vessels, including the Japanese submarine I-182.